BUY ONLINE,
---
PAY IN STORE
Order online at OYSHO.COM
and pay when you go to collect your items in store
HOW?
1
Add the items to your basket
2
Select "store" as the delivery method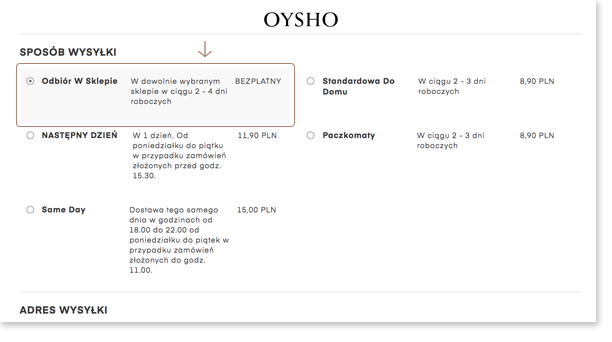 3
Select cash on delivery as the "payment method". This option allows you to postpone paying for the order until you go to collect it in store.
4
To collect your order, you will need to show the email or SMS you received.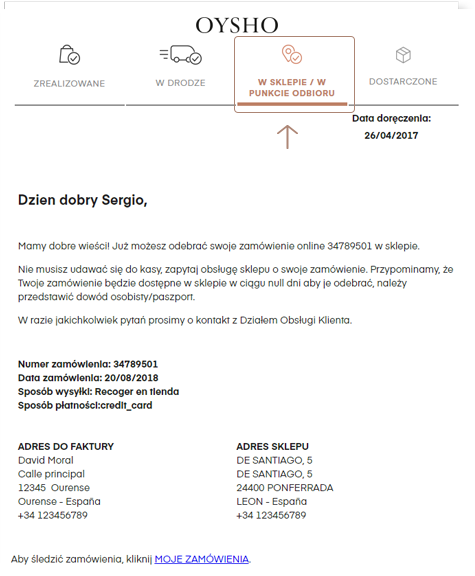 5
The amount owed can be paid by cash or card.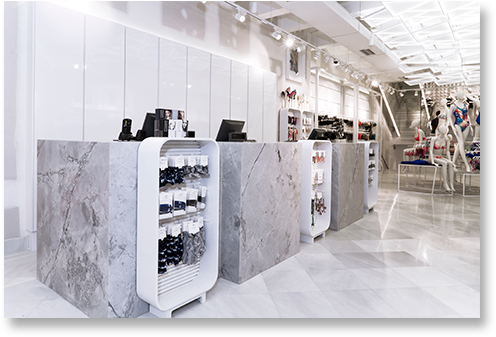 6
You have a period of 10 days to collect your order from the store. Once this period is over, your order will be cancelled
7
Returns can only be made at the store, and you will receive the refund via the same payment method used to make the purchase.
How do I make a purchase using the in-store payment method (cash on delivery)?
This is a new form of payment that allows you to make purchases online and pay for them in store. You can pay as you would normally, by cash or credit card.
How do I collect a store pickup order?
The system works the same as the rest of the orders placed online at OYSHO.COM When your order arrives at the store, you will receive a message, via email and SMS, notifying you that the items have arrived at the store you've selected. From that date, you will have 10 days to pick up your order from the store. Once at the store, use your DNI to collect your order.
How many days do I have to pick up my order from the store?
You have 10 days to pick up the order from the date you receive email and SMS confirmation that the items have arrived. If you have failed to pick up the items with the 10 days, the order will be cancelled and you will not be charged.
Can another person pick up my order?
Yes. The person who picks up the items should indicate the order number and the name of the person who placed the order. Finally, he or she must show ID and pay for the purchase.
Can I exchange or return the items from a store pickup order?
Exchanges and returns may be processed within 30 calendar days from the date you paid for the items in store. They must be made in the country of purchase, presenting the purchase receipt.
Can I request home collection for a store pickup order?
No, you may not request home collection for store pickup orders.